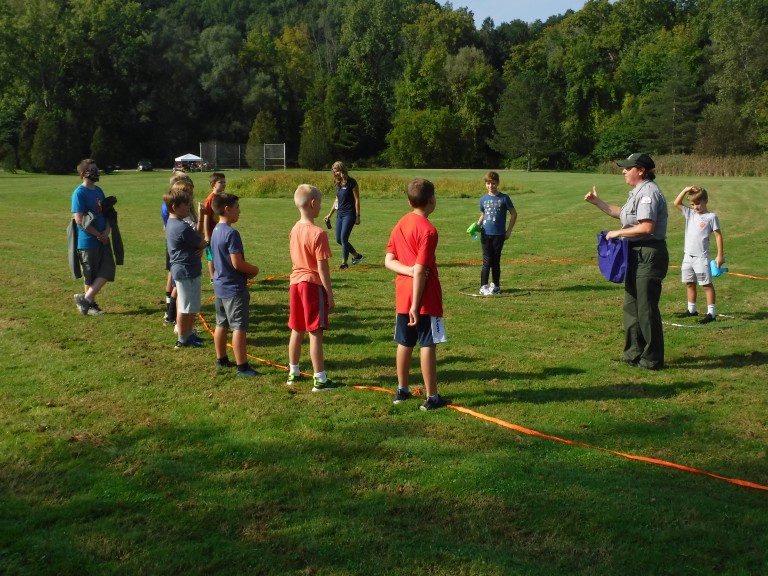 The Conservation Field Days concept is simple; bring together a student's excitement for the outdoors, environmental professionals willing to share their expertise, and a casual "fair-like" structure for them to share information and learn from. The goal of this event is to teach students about important environmental issues while having fun in one of our most beautiful area parks. In recent years, instructors came from the Iroquois National Wildlife Refuge, Rochester Institute of Technology, Seneca Park Zoo, NYS Department of Environmental Conservation, and more! Topics ranged from the usual conservation subjects, like renewable energy and agriculture to eye opening sessions such as endangered species and pollution.
Thank you to all of our amazing instructors for all of their hard work and dedication to the Conservation Field Days event! If you are interested in volunteering to be an instructor for Conservation Field Days (typically held in mid-September), email our office at mcswcd@monroecounty.gov to be added to our contact list!
If you need any information regarding Conservation Field Days, contact our office (mcswcd@monroecounty.gov), phone: 585-753-7380 for more information. If you are a teacher looking for materials to get your class involved in environmental activities, outdoor and indoor, contact our Conservation Program Specialist (jacobkearney@monroecounty.gov) for access to our Conservation Field Days Google Drive folder. 
All MCSWCD programs and services are offered on a nondiscriminatory basis without regard to race, color, national origin, political beliefs, religion, sex, age, marital status, sexual orientation, or disability. Please note that our instructors are limited in presentation format. Therefore, if your student requires information to be provided in alternative formats, please bring the required assistance for your students.